Closer Look at the Sony Xperia 1 IV from a Filmmaker's Perspective
Sony's latest smartphone just dropped, the Xperia 1 IV, and it managed to take the title for world's first phone with an optical zoom camera lens. It may be surprising to hear that Sony is still making phones.
They actually are making a lot of them and they are all very good, especially for creatives. Sony has packed a lot of cool tech and features into this model that make it a great option for filmmakers.
If you want to hear more about the Xperia 1 IV, Jason Vong takes a deep dive at the new features and how it looks from a filmmaker's perspective.
The upgrade that is the biggest deal with the Xperia 1 IV is that it is the first smartphone to have an optical zoom lens. In this case the tele camera has been changed to an 85-125mm zoom. Incredible what they can squeeze into phones these days.
All the camera modules can record in 4K up to 120 fps in HDR, there is 20 fps no blackout shooting in photo, and it has seamless zooming between all the lenses. It's compatible with the Vlog Monitor that came out with the Xperia PRO-I as well.
Sony has been making creator-focused phones and doing a really good job with them. While this review is going to talk mostly about imaging, it is going to be great for music creation and gaming. If you are interested in that you will likely want to check out other reviews.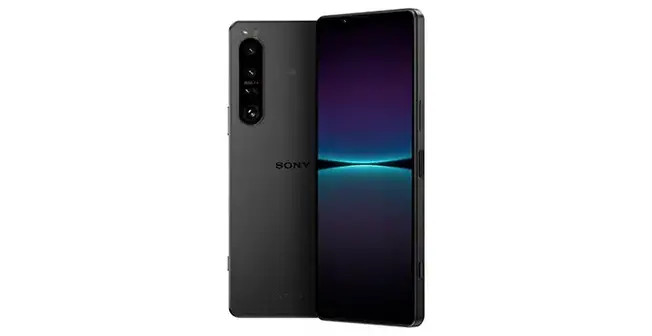 Looking at the phone you will see that Xperia is providing a premium experience. The hallmark of Xperia phones has been the ultra-wide 21:9 ratio 4K OLED screen with a 120 Hz refresh rate. This model is 50% brighter than its predecessor. It's great for content consumption as well as content creation as you can see the full image while leaving room for your controls.
There is still a headphone/mic jack! Plus, there is a USB-C port of the bottom with a lot of extra functions. And, you can upgrade the storage with readily available microSD card slots.
The phone comes with 512GB storage, but if you plan on seriously using it for photo and video you'll likely want more space. The side of the phone has the usual volume controls and home button, which also has a fingerprint reader, and a dedicated shutter button. The shutter even has two-stage activation like a regular camera.
As for networking, the Xperia 1 IV has the usual 5G and Wi-Fi and Bluetooth like any premium phone today.
The last photo-specific phone from Sony was the Xperia PRO-I, so it is worth comparing the 1 IV to that model. The PRO-I is in a different league thanks to the use of a 1"-type CMOS sensor that puts it more on par with an RX100 or similar point-and-shoot than other smartphones.
Plus, it has dual aperture for more control over the image. The Xperia 1 IV is a more standard phone with three cameras: 16mm f/2.2 ultrawide, 24mm f/1.7 wide, and that 85-125mm f/2.3-2.8  optical zoom tele.
It may not have the 1" sensor, but it does a damn good job and has that optical zoom lens. The last model had a dual lens zoom. This upgrades that with a smooth adjustment range from 85-125mm.
The Xperia can maintain a smooth zoom throughout the whole camera system using digital zoom in the middle. With digital zoom you can actually go from 16mm all the way up to 375mm. Best quality is to stick with the optical lenses though.
The seamless zoom is cool but it isn't perfect. You can keep recording while you zoom and change between the lenses, which is helpful, the unfortunate part is that you can tell the slight differences when it makes the actual change.
A big upgrade is being able to shoot 4K 120p HDR with any lens. You will lose out on image stabilization, Eye AF, and object tracking AF when at the max frame rate. You'll probably want to be using a gimbal and slowing down the footage will smooth out the footage anyway.
Another benefit of the fast readout is the ability to do multi-frame HDR. This will actually capture multiple images, half at a high exposure and half at a low exposure, and combine them to create a wide dynamic range image.
Let's not forget about the front-facing camera. This one got a lot of love. It has a larger 12MP sensor (up from 8MP) and has the high readout and HDR support for up to 4K 30p. You can also just use that previously mentioned Vlog Monitor if you want to make use of the rear cameras instead.
Being a connected device, the Xperia 1 IV is ideal for streaming. You can set it up to stream direct to YouTube and other services. It'll also take any camera video input that supports UVC (webcam) over USB and can connect to the USB-C port of the phone. You can pick up those cheap HDMI-to-USB adapters for webcam use to use pretty much any camera with a clean HDMI out.
For photo there were also some nice updates. There is real-time tracking and real-time eye AF for both people and animals. It'll shoot raw and you can use your preferred app to edit them.
You will have more control over settings, including things like white balance color temperature. This is moving the phone controls even closer to a traditional camera.
The only catch is that the Xperia 1 IV is expensive. It'll run you $1,600, though if you preorder you will get a free pair of WF-1000XM4 wireless earbuds.
It's a cool smartphone for creators if you are in the market.
What do you think about the Xperia 1 IV?